UNCOMMON FUN. UNBEATABLE LOCATION.
Horseback riding, Float Trips, and Beyond in Jackson Hole
Welcome orientation and Meet & Greet during a complimentary cocktail hour

Morning and afternoon horseback rides in varying levels including - slow and scenic, intermediate and advanced

Half-day and All-day ride options.

Arena lessons, roping demonstrations and Team Penning

Horse-drawn Hayride

Guided Hikes

Archery, Fly Fishing casting and Skeet Shooting instruction

Float Trips down the Snake River

Kids Programming to include – Scavenger hunts, kids rodeo, cookouts, arts and crafts and more!  

Cookouts around the campfire 

Live Music and dance nights

Evening activities include presentations by local Astronomer's, Master Naturalist and Horsemanship experts
Over the course of your week on the ranch, our professional onsite photographer is available for family portraits to catching momentous moments set in front of the beautiful Wyoming backdrop.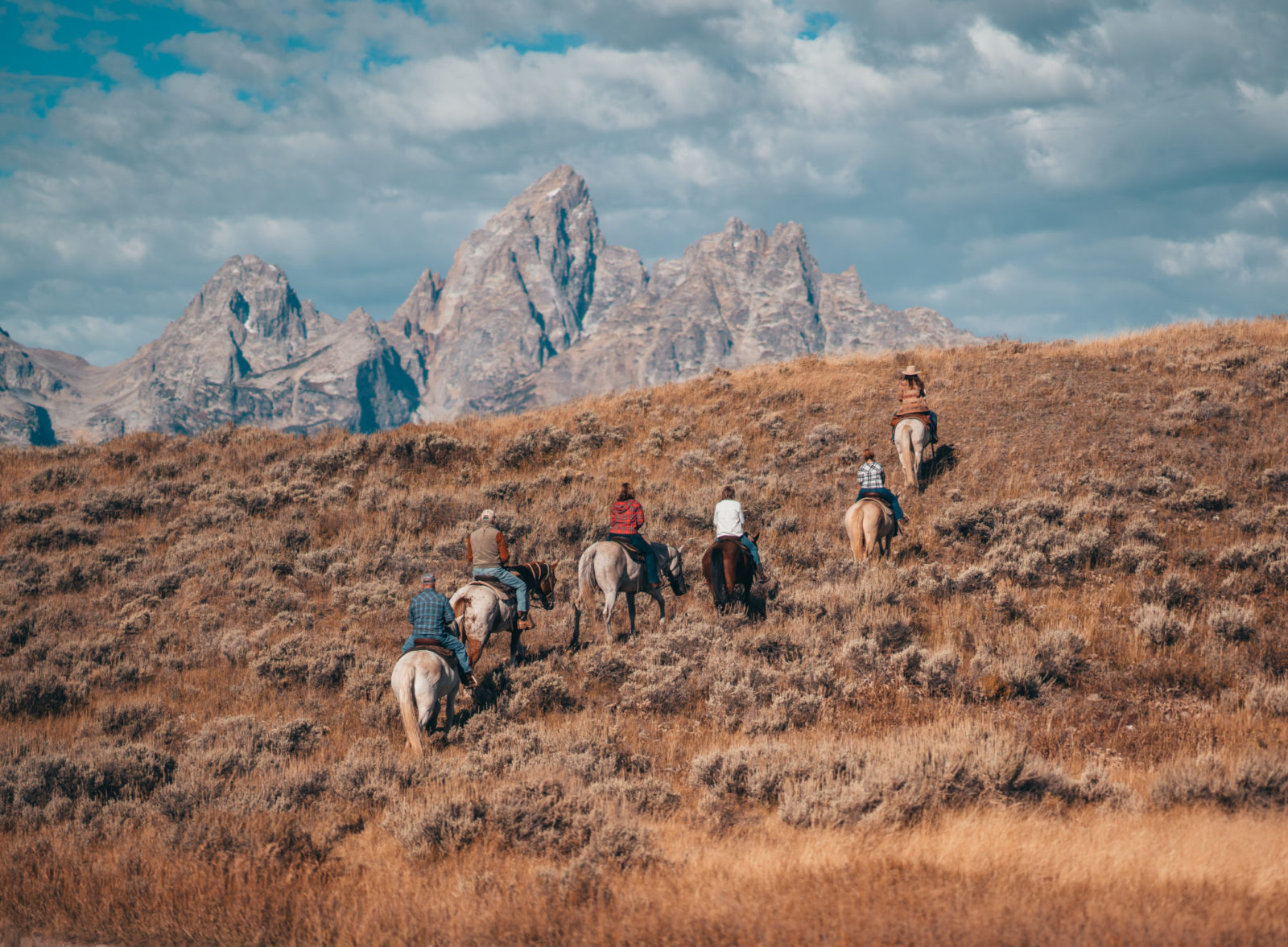 Mount up for Wyoming horseback rides in the Tetons
Wranglers pair you with one of Lost Creek Ranch's 80 horses. Your mount will match your ability level, height, weight**, age, and former horseback riding experience.
Each horse is trained to know its job of making you comfortable while enjoying your time on the trail. And the professional wranglers will encourage you with daily professional instruction at your level to become a more accomplished and confident rider.
Though our wranglers may come from various walks of life one thing is shared by all of them. They each have a passion for horses, for people, and for our way of life. They'll make your horseback riding experience at Lost Creek something special.
**Please note, we do have a rider weight limit of 250 lbs for the health and safety of our horses. If you are over this please contact us for assistance.
Snake River Scenic Float Trips
Enjoy mountain grandeur as you encounter wildlife and wild scenery
The stunning Snake River winds from north to south through Grand Teton National Park.
In the quiet early morning floats, watch for elk and moose through the mist as they come to the water's edge to drink. Overhead, osprey and eagles may soar with fish wriggling in their talons. Or you could glimpse the shy but playful otter or even witness a black bear and her cubs as they forage for berries along the banks.
Lost Creek Ranch offers two scenic float trips per day on the upper portions of the Snake River. Each boat contains a mere eight people or fewer. We provide hot beverages to keep you warm in the sometimes chilly morning air.
Children must be at least 6 years of age and exceed 40 pounds to participate in our scenic float trips.
Nature Walks, Jogging, Biking
Explore a vast mountain wilderness out your back door
East of Lost Creek Ranch and literally out your cabin's back door, a vast mountain wilderness criss-crossed by trails awaits you. Take a wilderness walk or get adventurous with a longer trek.
Guided nature walks leave from the ranch and go into Grand Teton National Park, which borders the ranch.
If you are interested in the main trailheads and hikes in the park, shuttle service can be arranged around onsite programming, though park entrance fees are not included.
You can even chart your own path to ponds where Moose will be bobbing for bottom weeds, their racks covered in water lilies.
Want to get out for an early-morning jog, walk, or bike ride? Miles of dirt roads around the ranch give you safe haven to pursue your fitness while admiring the Tetons.
Satisfying packable lunch provided by kitchen for hikers
Hundreds of marked trails available, many within minutes of the ranch
Please bring your own pack and hiking boots for hiking
Bring your own bike or rent for the week from town. You can also rent for short day trips just 15 minutes from the ranch.
Even Jackson natives say a lifetime isn't enough to explore the nooks and crannies of the valley. So you better get started while at Lost Creek.
Head to the lodge for cookouts, lounge mixers, rodeo, stargazing, and more
Most nights at the ranch you'll find yourself drawn to the lodge for live musical entertainment, lounge mixers, and other fun vacation activities. Feel at home in a let-down-your-hair atmosphere with no specific dress code, even for dinner (a dress code we enforce during all activities at the ranch so you can be as casual and comfortable as you want.)
You'll feel at home in the lodge with its amazing view. And you'll probably use it as your comfy living room to unwind by the fire, your dining room, and your entertainment room for the week.
Evening activities include the following on various nights of your stay:
Evening cookouts
End-of-week feast
Rodeo trip into town to see bull riding, bronc busting, barrel racing, roping, and more
Stargazing with a local astronomer
Lounge mixers and dance nights
Live entertainment
There is something for everyone to enjoy each night.
Instructor Led Skeet Shooting
Unleash your inner gunslinger
Skeetshooting is available throughout the week. This activity requires an additional charge of $40.00 per person.
A wide range of age appropriate firearms are available, including a .22, .410, and 12 gauge shot gun. Ranch personnel is extensively trained in gun safety and each guest is required to attend a safety briefing before shooting.
For the safety of our staff and guests, please leave your personal firearms at home. Thank you!
Off-Site Activities with 3rd Party Vendors:
Grand Teton National Park Guided Outings
Load up for a local's perspective on the majestic Tetons and their surroundings
Lost Creek Ranch is surrounded by Grand Teton National Park and just a few miles away from Yellowstone National Parks south entrance.
Spend a day touring Grand Teton National Park or a Yellowstone National Park with one of our preferred vendors who offer an experienced, friendly, and knowledgeable guide.
Learn the ins and outs of the mountains, see wildlife, and otherwise come to know this incredible area.
**Ranch pricing does not include off-site activities.
Award-winning golf in an incredible mountain valley
Two award-winning semi-private golf courses in Jackson Hole leave some tee times open to the public. Jackson Hole Golf and Tennis Club and Teton Pines are respectively a mere 20 minute and 40 minute drive from the ranch.
Imagine a day of golf with clean mountain air and majestic views topped off with a relaxing spa treatment at the ranch.
We'll be delighted to help you arrange tee times upon your arrival.
**Ranch pricing does not include off-site activities.
Fish sparkling spring creeks, the mighty Snake River, or beautiful mountain lakes
Jackson Hole attracts fly fishermen from around the world. We have browns, rainbows, and native cutthroat trout in the Snake River at our doorstep. Several lakes and ponds and many small, clear streams are all within an hour of the ranch.
The ranch has a fishing permit and equipment to provide an enjoyable trip right from the ranch. We also contract with a phenomenal fishing guide if you want to get on a fishing float trip. From a self-guided hike along a mountain stream to a guided day on the Snake River, we can arrange a perfect day of fishing. (The catching is up to you.)
**Ranch pricing does not include off-site activities.